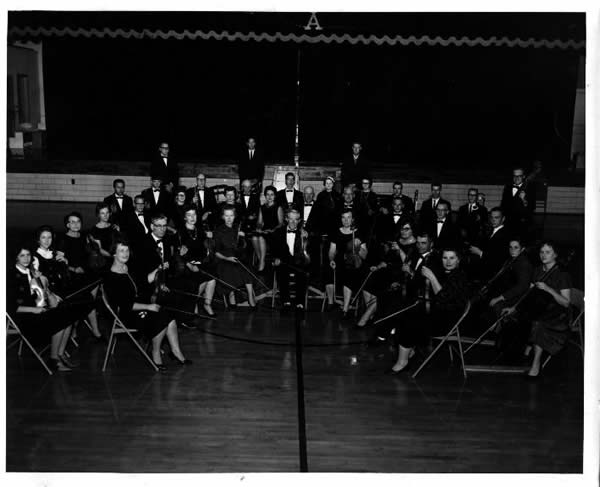 Picture from the mid 1960's
Cherokee can be very proud of the Cherokee Symphony, an outstanding musical organization. Having a first-rate symphony orchestra is indeed unique and fortunate for a city of Cherokee's size.
The Cherokee Symphony was co-founded in 1956 by Merle Robinson of Cherokee and Della Beth Thomson of Cleghorn when "Orchestra" was offered by the Adult Education Program.
The orchestra provides the community with the highest quality musical entertainment while giving musicians in the area a semi-professional outlet for their talents. This 60-member orchestra has been referred to as "the best kept secret in Northwest Iowa".
The Cherokee Symphony Association has a Board of Directors that supports the symphony, especially in the area of providing funds through program advertising, association memberships and ticket sales. These all insure future programming. Children who are high school age or younger are admitted free of charge.
Usually three concerts are given each season.... a Pops Concert in the Fall; the Mid-Winter Concert in February; the Young Artists' Concert in March or April. Concerts are held on Sunday afternoons at 4 p.m. at the Cherokee Community Center in Cherokee, Iowa.